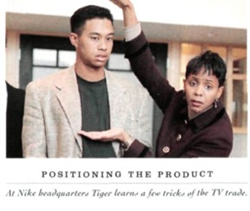 Woman-owned Black Enterprise celebrates 30 years of helping blue chip companies and elite athletes speak with impact
Thirty years later, we have worked with dozens of companies, hundreds of executives and thousands of professionals. Who would have thought that 30 years ago a small business owned by black women would become a force to be reckoned with in communications?
BETHESDA, Maryland (PRWEB)
September 22, 2021
To become an inspiring leader, you have to go through some tough times in life to center your story and drive your power. For Denise Harrington, CEO and Founder of Speaking With Impact, it first happened on stage at a major business event in 1991. Denise was six months pregnant with her first child and her presentation on stage that day. it was made to a group of Fortune 500 companies and a leader in the sports industry, Nike. It was an audience that was strongly seen as male dominated and not easy to influence.
That day, from a single speech, she secured three key corporate clients. To say she took him out of the park would be an understatement.
"As soon as I left this stage, I knew that my mission would be to help professionals transform their careers and their lives by training them, consulting them and coaching them on the principles of speaking with impact" , explained Denise. "Thirty years later, we have worked with dozens of companies, hundreds of executives and thousands of professionals. Who would have thought that 30 years ago, a small business owned by black women would become a force with which to you have to count in communications? "
Denise has helped people become confident, high-impact speakers at the senior executive level in some of the world's largest companies. One of its biggest clients, Nike, trusted him to work with their top athletes to help them represent the brand with impact. After all, the skills that have raised them to the top of their sport are vastly different from those required to speak fluently.
His clients include Tiger Woods, Nike founder Phil Knight, nine-time Olympic track and field medalist Carl Lewis, Dawn Staley and the Portland Trailblazers. Along the way, she earned a place as a global influencer in the public speaking coaching industry.
Mother-Daughter Team

Now let's move quickly. To close the loop, the same eldest daughter, Nia Harrington, joined the company four years ago as a communications coach and is now Senior Director of Operations with the goal of taking the business to the next level. Under Denise's mentorship, she has grown into a leadership and communications expert in her own right and is now a rising partner in the business. Following in her mother's footsteps, Nia worked as a keynote speaker with the Washington football team, interviewing the first African-American quarterback to win a Superbowl, Doug Williams. Each year, she connects with her alma mater, George Mason University, to help prepare young professionals for a career in the sports industry. Nia wants to work with large companies to help them move to the next phase of communications in the digital age. Together, the mother-daughter team provides innovative cutting-edge training to its global clients.
Change over time

By the time Denise started her business in 1991, overhead projectors and flip charts were the norm, VHS tapes were the norm, and speakers still believed they had to be in the same room to have an impact. Today, Denise and Nia Harrington defend virtual presentations. Not only have they adopted Zoom training for their own business, but they are also teaching large companies how to take full advantage of virtual speech.
"Some people say you have to be there in person to have an impact, but I don't agree," Nia said. "You can connect in meaningful and powerful ways because you are talking to people in their home environment, where they live and breathe. You can reach your global partners without the hassle, fatigue and expense associated with travel.
"Connecting with your customers and spreading your company's brand message doesn't have to stop because you're not face to face," she added. "The use of virtual platforms is effective today and may be in the future. "
In addition to leading figures in the sports industry, Speaking With Impact's client base includes CEOs and C-Suite executives from Autodesk, Siemens, Intel, Kaiser Permanente, Microsoft, McDonald's, Ubisoft, CommScope, Cisco, and more.
"Denise is an exceptional speaker and communications coach," said Jim Sheriff, former senior vice president of global sales at Cisco, who worked with her for more than five years. "She helped me prepare for my biggest stage presentation in front of around 2,000 attendees around the world. Her advice on stage performance and content creation was masterful."
You are invited! Register for Speaking With Impact's virtual celebration of our 30th anniversary at 11:30 am EDT (UTC-4:00 am) on September 30, 2021.
About Speaking with Impact

Speaking With Impact is a certified women and minority owned company that specializes in training on how to be 'ready for the main stage', presentation skills, speaker coaching, executive coaching and crisis communication. A privileged communication and public speaking training company with over 30 years of experience in the international business community, it works with various clients as a boutique firm focused on the unique needs of its clients. Denise Harrington is a sought-after speaker and host of the Women Express podcast, which focuses on women who find, use and strengthen their voices.
Share the article on social media or by email: