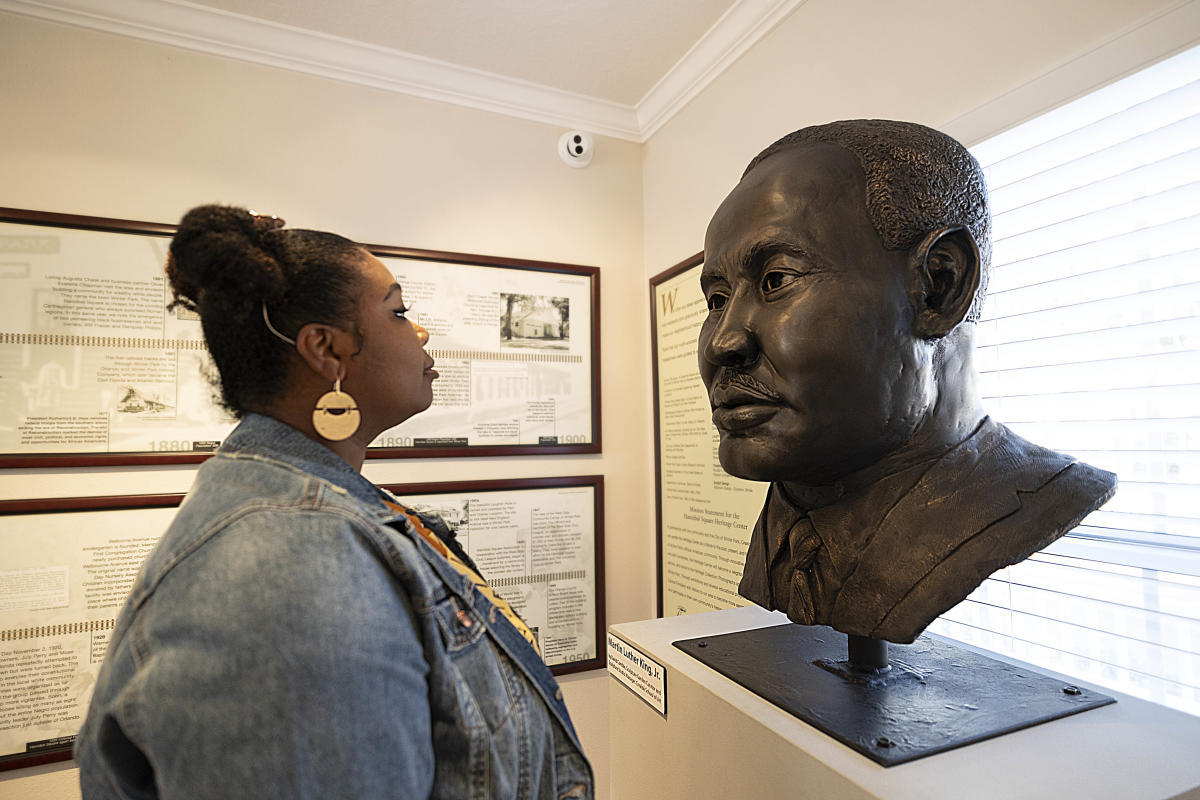 Winter Park's Hannibal Square Heritage Center
In the first of a two-part series exploring Orlando's influential African-American presence, Instagram influencer Katrina Dandridge visits the Hannibal Square Heritage Center (pictured) in Winter Park.
---
It's a beautiful "winter" morning in Orlando. The sun has risen and the rays are just bright enough to warm the cool air. This is the time of year that I look forward to the most. Just in time for Black History Month, it's also the perfect day to get out and explore some of the African-American culture and history found in Orlando, starting with the Hannibal Square Heritage Center in Winter Park. Read on to see why you'll want to make this part of your adventures the next time you're in Orlando.
Read more: Black History Month in Orlando
Please note: Depending on the time of your visit, some experiences may be temporarily changed. Learn more about healthy travel in Orlando and check with your favorite places for their current status.
African American History at the Hannibal Square Heritage Center
Arriving for the first time at the Hannibal Square Heritage Center in Winter Park, one cannot help but gaze at the beautiful and eclectic community of Hannibal Square itself. The boutiques, salons, restaurants and businesses are the glitz that will first catch your eye, but the real gems are the original homes, churches and descendants that continue to make this neighborhood their permanent home. Much of the area has turned into commercial property; however, the spirit of the past is very much alive. (Editor's note: Hannibal Square Heritage Center is operated by the adjacent Crealdé School of Art.)
Find out more: Winter park
Before heading downtown, I couldn't resist strolling through peaceful Shady Park nestled among tall trees, colorful plants, and quirky artwork. The park has a sculpture called The Molecular Dog, which at first glance looks like an inflatable balloon animal. I later discovered that the sculpture was created by Miami artist Robert Chambers.
There's a lot to see as you stroll the sidewalks, but what caught my eye was a mosaic mural. "Strength", "History", "Unity", "Vote" and "Memory" are some of the uplifting words seen. Title Community Pride in Hannibal Square, the mural sets the scene by displaying the phrase, "In 1887, the citizens of Hannibal Square gathered and crossed the tracks to vote, electing two African American aldermen."
Learn more: African-American history and culture in Orlando
The mosaic was produced in partnership with the Golden Rule Foundation and with significant funding from the Elizabeth Morse Genius Foundation, the City of Winter Park, and Walt Disney World® Resort's "Helping Kids Shine" program.
With an abundance of rich presence felt throughout the community, I was eager to enter the center to learn more about the history and role of black Americans in the wealthy Winter Park. Breathtaking, I thought. The atmosphere is both rewarding and refreshing!
I was completely overwhelmed by the beautiful permanent collection of framed archival pieces that capture the life of early Winter Park. The simplicity of the space filled with black and white photographs and oral histories is inviting. It's an intimate setting that invites you to take a closer look and escape into the heritage that is the pride of this community.
I was greeted by the Hannibal Square Heritage Centre's Director of Operations, Barbara Chandler, aka Miss Barbara. Complemented by a vast wealth of knowledge, her passion was evident as she spoke from the heart. Referring to a photograph of a young girl, Miss Barbara noted: 'She was brought up a few doors down. I just spoke to him this morning. His personal anecdotes accompanied my tour perfectly. "A lot of great people came from Hannibal Square, and here are their stories," Miss Barbara said.
A great pairing with the gallery is a timeline that acts as a sort of time machine. Beginning in 1880, the Hannibal Square timeline includes local events such as the 1911 founding of Winter Park Bethel Missionary Baptist Church on Welbourne Avenue. It also includes significant national events in African American history such as the election of President Barack Obama.
The center has two floors to explore. Be sure to spend most of your day taking your time and soaking up all the culture this place has to offer. Did I mention there is free parking available and free of charge to spend hours looking around?
In addition to works of art by various artists, the second floor hosts traveling exhibitions that change three to four times a year. At the time of my visit, "The Sage Project" was on display. Portraits and living stories of the community's oldest residents, now in their 80s and 90s, adorn the walls of the Hannibal Square Heritage Center Gallery. These historical accounts, although personal, gave me a strong sense of familiarity. What an incredible opportunity, I thought, to gain insight into the unique history and contributions of the residents.
Not only does the center act as a preservation museum, but it also offers a plethora of free cultural events and educational programs for all ages that explore the African American experience. Some noteworthy examples include visual arts classes and workshops, an art sampler for children and seniors, and quilting classes.
Phew! One day was definitely not enough. Consider me a frequent traveler as I will continue to visit again and again. I'm excited to learn more and attend some of the events at the Hannibal Square Heritage Center. I encourage everyone to plan a trip. It is such a vital part of our American and African history! It was exactly the black history vibe I was looking for in Orlando.