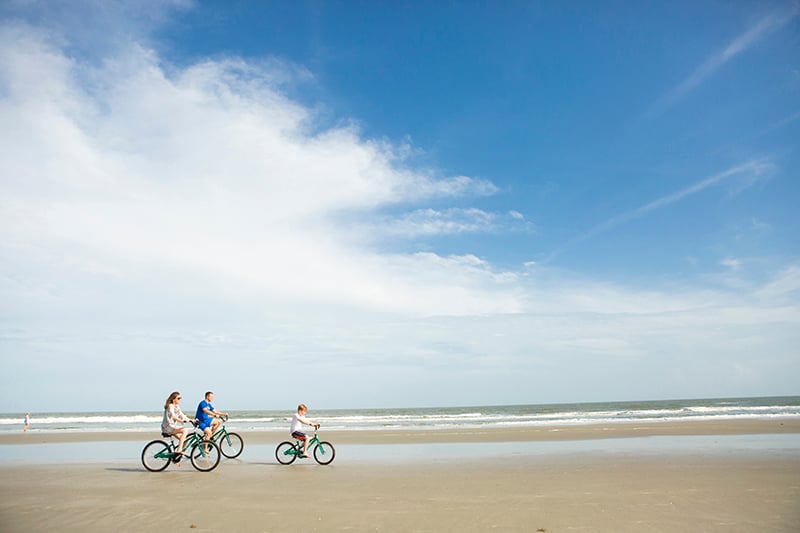 Travel Guide: A Weekend on Kiawah Island
Kiawah Island is one of the many resort sites along the South Carolina coast where people go to play golf, including the world's top professional players, who competed in the 2021 PGA Championship in May. Kiawah is so appealing to course developers, resort owners, and golfers because of the free amenities that nature provides: 10 miles of white sand beaches, holm oaks and swamps filled with osprey, egrets and alligators. It's a 45-minute drive along the coast to Charleston's shops and restaurants and less than four hours from Charlotte. Golf is the center of Kiawah life and economy, but you don't have to be a scratch player to have fun here.
TO STAY: The Sanctuary Hotel and Spa at Kiawah, a 255-room beachfront luxury hotel, is the centerpiece of the Kiawah Island Resort, which also boasts 500 villas and rental homes for up to 20 people. You can book a spa appointment and have a casual drink or lunch at the Ryder Cup Bar and enjoy breathtaking views of The Ocean Course and the Atlantic Ocean.
TO EAT: The KISS Café on Johns Island, 20 minutes north, serves what locals say is the best breakfast around. Bohicket Marina & Market, just outside the gates of Seabrook Island, is a great place to grab a cold drink or an ice cream cone after a long day at the beach. Stop by Fischer's Sports Pub & Grill, a casual restaurant with live music, happy hours, and a crab night every Tuesday. For a date or a special occasion, dine at the FortyEight – Wine Bar & Kitchen in Freshfields Village, where you can snack on a charcuterie board, feast on prawn scampi or filet mignon and choose from 48 wines by the glass . You can taste as many varieties as you want with a prepaid card that lets you choose between three tasting formats at self-service wine stations. (They also have a choice of 48 beers a day.) Save room for local artisan chocolates for dessert.
TO PLAY: Bring your bike (or rent one from Surfscooter Bikes) and cycle by the ocean with the sand under your tires, or explore over 30 miles of paved trails. Stop in Freshfields Village for a cream soda at Vincent's Drug Store & Soda Fountain, then browse the shelves for board games, sunglasses, greeting cards, and keepsakes. The open-air shopping village has mainstays such as Lilly Pulitzer and lululemon, as well as a mix of local upscale boutiques. Check out the events calendar for Music on the Green in the village center and pack a towel or beach chair to enjoy an evening of live music. For a quick afternoon adventure, the famous 400-year-old Angel Oak Tree is a 20-minute drive from the resort.
---
The Ocean Course, where Phil Mickelson won the 2021 PGA Championship in May, has 10 oceanfront holes, more than any other course in the country. The Sanctuary recently capitalized more on the setting when it opened The Cottages at The Ocean Course, four two-story, four-bedroom cottages next to the clubhouse that overlook the driving range and the Atlantic beyond.