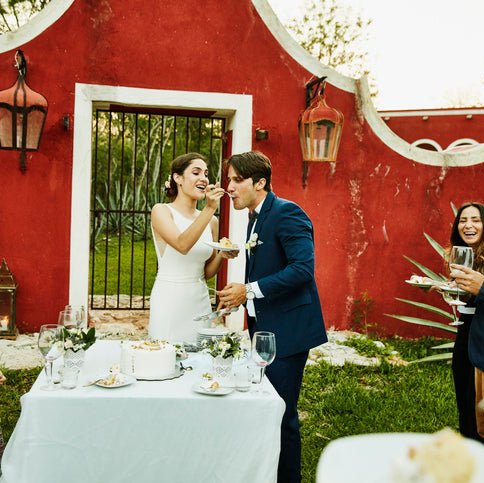 This is the average cost of a wedding in 2022
Your big day will probably be more expensive this year.
---
Key points
Wedding expenses have dropped (with good reason) in 2020.
They roared in 2021 and are set to do so in 2022 as well.
Incorporating expected costs into your wedding budget can help you identify where you can save money.
---
If you're looking to plan a wedding in 2022, you might be wondering how much it might cost you (and how you might save money). Average wedding costs have rebounded this year, after bottoming out in 2020 at the height of the COVID-19 pandemic.
Why are wedding costs going up this year?
Market research firm The Wedding Report notes that 2.5 million couples intend to get married in 2022, around 15% more than a typical year, and a 30% jump from 2021. Many people had to reschedule potential weddings originally planned for 2020 and then again in 2021 as COVID-19 variants raged. Wedding vendors are also passing on their increased costs due to inflation and supply chain issues to happy couples in hopes of not breaking the bank.
Average cost of a wedding in 2019: $24,700
Average cost of a wedding in 2020: $20,286
Average cost of a wedding in 2021: $27,063
With all of that in mind, what can you expect to pay for all the pieces on your big day in 2022?
Common costs
WeddingWire has released its updated Wedding Cost Guide, which covers the most common expenses you'll encounter while planning and hosting a wedding. Consider these costs when planning your wedding to see where you could save money.
Venue
On average, couples can expect to spend around $6,000 (with a range of $3,000 to $11,000) to rent a venue for their ceremony and reception afterwards, with most of that cost going to the reception site (because ceremonies are often short and do not involve catering).
Food and drinks
Food is a major wedding expense, and couples pay an average of $4,000 for catering ($1,800 to $7,000). Wedding buffets average $27 per plate, while a plated dinner will cost around $40 per plate. Alcohol adds an additional expense of around $15 per guest, but you can reduce this cost by having a limited open bar (offering only beer, wine, and soft drinks) or a cash bar (guests pay their own alcohol).
Photography and videography
The average wedding photography session will cost you $2,000 ($1,150 to $3,000) and if you want video, that adds $1,799 ($1,000 to $2,500).
wedding planner
A wedding planner isn't essential, but in these crazy pandemic times, you might want to hire an expert to help you navigate your choices. The average cost for a wedding planner in 2022 is $1,500 ($1,000 to $2,500).
Look good for the big day
An average wedding dress will cost you $1,000 ($280 to $1,650). You may have to pay for the changes. A tuxedo rental averages around $100, but if you're buying a tuxedo or a wedding suit, you might be looking at around $350. Hair and make-up costs for the bride can also be included in your wedding budget; $300 is the average cost here ($150 to $600).
Music
You may want music ($500; $330-$700) to set the mood for your ceremony. And many people are looking for a wedding DJ ($1,000; $780-$1,495), or even a live band ($4,500; $2,850-$6,488) for the reception.
Cake
The average wedding cake in 2022 costs $500 ($300 to $700), but many factors go into that price, including the size, ingredients, and complexity of the cake. Want a fancy tiered affair with fondant and sugar flowers? Expect to pay more for the (beautiful) privilege.
Flowers
While a bridal bouquet might set you back $160, all the flowers you might want for a more traditional ceremony cost an average of $1,500 ($700 to $2,500). This price includes the flowers for the wedding party, as well as the table arrangements and other accents, not to mention the delivery and set up of those festive flowers.
Celebrant
Your celebrant will conduct the actual wedding ceremony and will cost you approximately $300 ($200-$450). Sometimes this is not a fixed charge, but rather an equitable donation to a place of worship or religious organization if your celebrant is a religious figure.
Transportation
Transportation costs for a wedding can include limo rental or even bus rental. The average cost for these is $750 ($500 to $1,100), but you need to consider how long you'll need vehicles as well as the type and size to get the most out of this part of your budget.
Wedding rental
If your venue doesn't have the furniture and accessories you'll need for your ceremony and reception, you may need to rent them from an event rental company. It costs an average of $650 ($425 to $1,000). These costs can vary greatly depending on your needs (for example, renting a tent for an outdoor wedding can cost you $300).
photo booth
Maybe some of your guests aren't interested in dancing and you want to offer them an alternative activity. Wedding photo booths are very popular and cost an average of $650 ($425 to $1,000).
wedding price tag 2022
In total, the average wedding report cost for a 2022 wedding sits at around $27,000, which is roughly in line with 2021 costs. Ideally, you've had plenty of time to spare for the big day and so have the money sitting in your savings account, ready to go. Otherwise, there are credit cards that are well suited to help you pay for your wedding by offering 0% APR, honeymoon travel rewards, cash back, or purchase protection in the event of an accident on wedding day. However you finance your wedding, try to remember that the idea is to celebrate with your friends and family!
Alert: The highest cash back card we've seen now has 0% introductory APR through 2023
If you use the wrong credit or debit card, it could cost you dearly. Our expert loves this top pick, which features an introductory APR of 0% until 2023, an insane cashback rate of up to 5%, and all with no annual fee.
In fact, this map is so good that our expert even uses it personally. Click here to read our full review for free and apply in just 2 minutes.
Read our free review