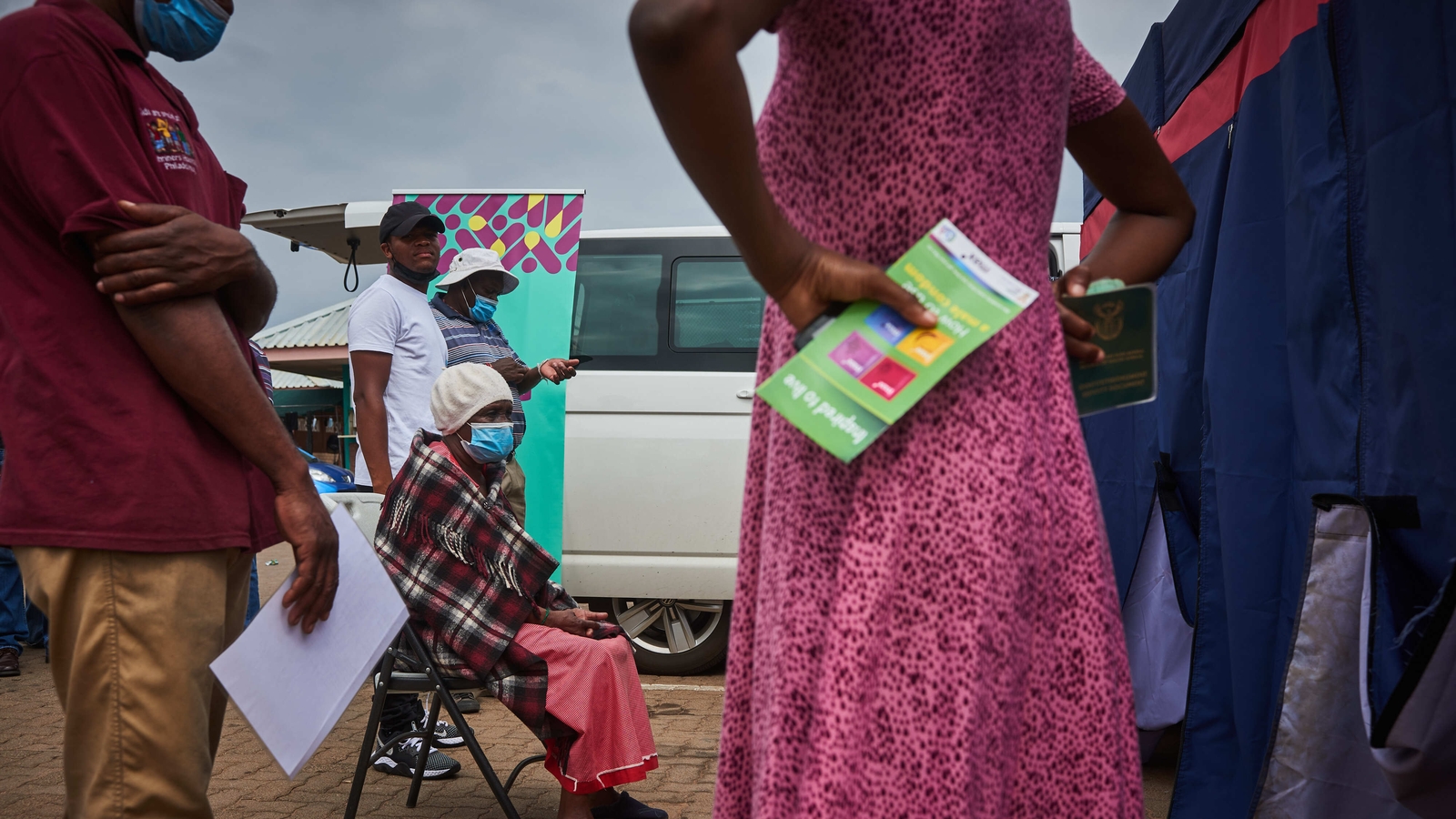 South Africa says it could enter fifth wave of Covid
South Africa could enter a fifth wave of Covid sooner than expected after a sustained rise in infections over the past 14 days which appears to be due to the BA.4 and BA.5 Omicron subvariants, officials have said. health and science.
The country that has recorded the most coronavirus cases and deaths on the African continent only emerged from a fourth wave around January and had predicted that a fifth wave could start in May or June, at the start of the southern hemisphere winter.
Health Minister Joe Phaahla told a briefing that although hospitalizations are resuming, there has so far been no dramatic change in intensive care unit admissions or deaths.
He said that at this stage, health authorities had not been alerted to any new variants, other than changes to the circulating dominant, Omicron.
Infectious disease specialist Richard Lessells said at the same briefing that dwindling immunity from previous waves could contribute to the earlier-than-expected resurgence of cases.
He said the increasing share of infections attributed to Omicron sub-lines BA.4 and BA.5 suggested that they had a growth advantage over other Omicron sub-variants like BA.2.
But until now, there was no evidence that BA.4 and BA.5 caused much more severe disease, said Waasila Jassat of the National Institute of Communicable Diseases.
South Africa has reported over 3.7 million Covid cases and over 100,000 deaths during the pandemic.
Yesterday, the WHO Africa office flagged rising infections in South Africa as the main driver of a rise on the African continent.
Senior health official Nicholas Crisp also said this morning that the country has enough vaccine doses and has no plans to buy more. He added that the government had no intention of buying Pfizer Paxlovid's COVID treatment pill for public sector patients, partly because it was very expensive.
South Korea ends mandate for outdoor masks
South Korea will lift its outdoor mask mandate next week in response to a steady decline in Covid-19 cases after a surge fueled by Omicron.
The announcement comes after the South Korean government scrapped nearly all other social distancing measures earlier this month, ending two years of strict requirements that have strained the country's small businesses.
Starting Monday, residents will no longer be required to wear face masks outside unless attending an event with more than 50 attendees, health authorities said.
"As the social distancing measures are lifted and the mask mandate is adjusted, people are increasingly returning to normal life," Jeong Eun-kyeong, director of the Korea Monitoring and Control Agency, told reporters. disease prevention.
"It's all down to people's patience and cooperation over a long period of time," Ms Jeong added.
South Korea's new administration, led by conservative President-elect Yoon Suk-yeol, criticized the decision to end the mask mandate as "premature", questioning whether it was based solely on "virus prevention measures ".
Ahn Cheol-soo, head of Mr Yoon's transition team, had previously said the new government expected to make a decision on the mandate in May.
South Korea has reported 50,568 new coronavirus cases, well below the peak of more than 620,000 a day in mid-March.
Ms Jeong said there had been a "steady decrease" in Covid-19 cases over the past six weeks.
"The number of new critically ill patients is also decreasing," she said, adding that hospitals have enough beds to treat new hospitalized patients.
More than 86% of South Korea's 51 million people have been fully vaccinated, with the majority also receiving a booster shot.
Around 22,700 people in the country have died from the coronavirus – a death rate of 0.13%, one of the lowest in the world.
Beijing closes gyms and malls to contain Covid
China's capital Beijing has shuttered more businesses and apartment buildings as authorities step up contact tracing to contain a Covid-19 outbreak, while resentment over a month-long draconian lockdown in Shanghai continued to grow.
In the financial hub, fenced-in people protested the lockdown and difficulties in getting supplies by banging on pots and pans in the evening, according to a Reuters witness and residents.
A video shared on social media, the authenticity of which could not immediately be verified, showed a woman warning people via a megaphone not to do so, saying such gestures were encouraged by "outsiders".
The Shanghai government did not immediately respond to a request for comment.
In Beijing, the authorities have embarked on a race against time to detect Covid cases and isolate those who have been around them.
Chaoyang district, the first to undergo mass testing this week, began the latest of three rounds of testing among its 3.5 million residents. Most of the other districts are due for their third round of testing tomorrow.
Other buildings were sealed off, preventing residents from leaving, and some spas, KTV lounges, gymnasiums, cinemas and libraries and at least two shopping malls closed.
Couriers and food delivery staff have also been denied entry to some residential compounds.
Chaoyang, which has the highest share of cases in Beijing, said more neighborhoods were at risk.
People who had recently visited sites in these areas received text messages telling them to stay put until they got their test results.
"Hello citizens! You recently visited the beef noodle and braised chicken shop in Guanghui Li community," read one of the texts. "Please report to your resort or hotel immediately, stay put and await notification of nucleic acid testing."
"If you violate the above requirements and cause the epidemic to spread, you will bear legal responsibility."
Beijing reported 49 cases on April 28, down from 50 the day before, a far cry from Shanghai's numbers.
The Labor Day break from April 30 to May 4 is traditionally one of China's busiest tourist seasons, and hotels are expected to suffer heavy losses this year.
Tourism is on a long list of industries disrupted by Covid restrictions across the country, from finance and electronics manufacturing in Shanghai to Jilin in the northern Rust Belt.
Chinese authorities say being Covid-free is vital to saving as many lives as possible.
In Shanghai, after a month-long lockdown, authorities said more people had been gradually allowed to leave their homes in recent days. More than 12 million inhabitants, nearly half of the population, now belong to this category.
Yet many cannot leave their homes, while those who do may have few places to go as shops and other venues are closed.
While some delivery bottlenecks have been eased in the city, criticism of the government has continued to grow, especially over the food supply.
Residents in some districts complain that their rations have been less frequent than in others, taking to social media to compare deliveries.