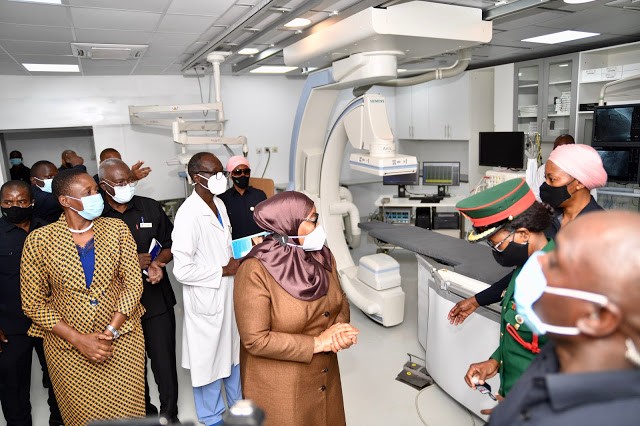 Map of Tanzania Medical Tourism Center
Dar es Salaam. The government has said it will improve customer service at public health facilities as the country seeks to become the regional hub for medical tourism.
The country will also work on language barrier issues to capitalize on the presence of several specialized health facilities in the commercial capital of Dar es Salaam, said the Minister of Health, Community Development, Gender of the Elderly and Elderly. Children, Dr. Dorothy Gwajima. Monday evening.
She made the remarks during the unveiling of a team tasked with promoting medical tourism in the country. Medical tourism is when a person travels to another country for medical care.
Globally, the top destinations for medical tourists include Malaysia, which receives up to 500,000 medical tourists annually, mostly from Asia. Malaysia's healthcare costs are affordable despite a highly developed medical infrastructure. The list also includes India which attracts medical tourists from Africa and parts of Asia, mainly patients requiring heart and orthopedic surgeries. Other medical tourism hot spots include: Thailand, Brazil, and Singapore, among others.
Dar es Salaam is home to several medical facilities that offer specialized treatment, putting the country on track to grab a share of the $ 45.5 billion to $ 72 billion of the global medical tourism market.
Besides Muhimbili National Hospital and some world-class private healthcare facilities, Dar es Salaam is also home to the Jakaya Kikwete Cardiac Institute (JKCI) and the Ocean Road Cancer Institute (ORCI).
Dr Gwajima said improving customer care services should be the focus as the country has everything to make it a hub for medical tourism on the continent.
"Our hospitals have good facilities, specialized practitioners and sufficient medical equipment. What we lack is better customer service to patients, "she said.
"In order to successfully enter the medical tourism cluster, hospitals must transform their customer care services and give patients the opportunity to make a choice. "
Dr Gwajima advised hospitals to identify and reward the best healthcare workers as well as take action against those excessively blamed for providing poor services.
She said medical tourism increases government revenue, however, warning patients are choosing hospitals with better services.
The Minister congratulated the chosen team, noting that when implementing their responsibilities, private hospitals should be fully engaged as they have global standards that will allow the country to achieve its goal.
JKCI Executive Director Professor Mohamed Janabi, who chairs the team, suggested that medical tourism start at the heart institute and be extended to kidney treatments offered by Muhimbili National Hospital (MNH).
They should also be extended to the Muhimbili Orthopedic Institute (Moi) and to ORCI, which respectively offer brain surgery and radiotherapy (RT) treatments as well as regional and district referral hospitals. "Medical tourism means that patients arrive from foreign countries for treatment and return after recovery, others go to tourist attractions around the country, and others receive treatment after contracting illnesses after visiting the country. as tourists, "said Prof Janabi, stressing the need for enhanced quality of service delivery. .
Team member Abdulmalik Mollel said that despite the geographic advantages, including the proximity of facilities to the airport and proximity to hospitals, the country is challenged to overcome language barriers discouraging some tourists, some like the French-speaking Comorians. President Samia Suluhu Hassan said last month that a study by Patient Beyond Borders showed that around 14 to 16 million people consult overseas, spending between $ 45.5 billion and $ 72 billion annually.
"Our goal is to collect some of this money from the world, to come to Tanzania," she said as she inaugurated two state-of-the-art medical facilities at JKCI.