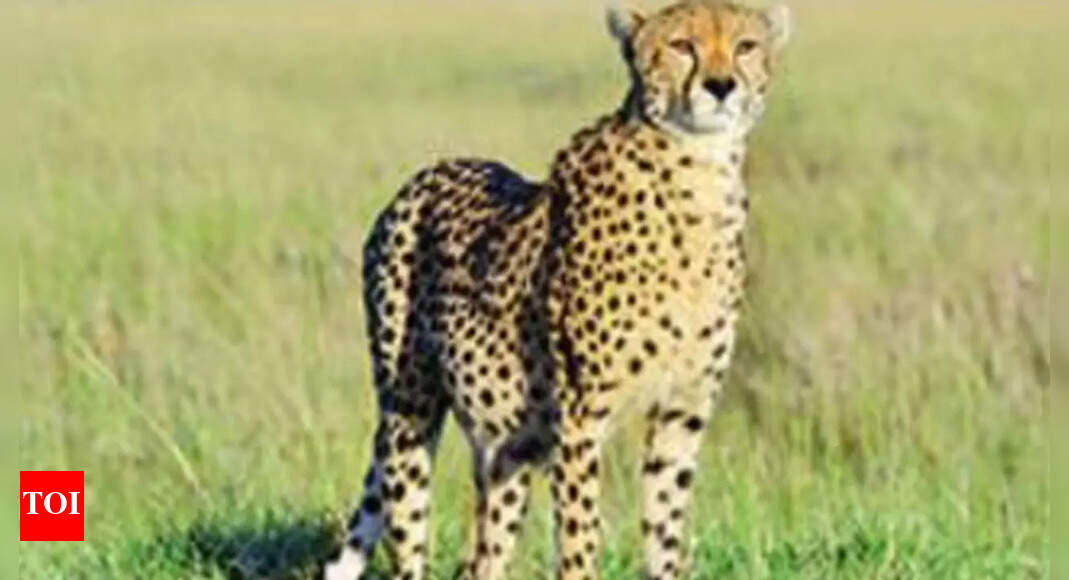 Madhya Pradesh: Kuno of Madhya Pradesh will get 100 cheetahs from South Africa in 10 years | Bhopal News
BHOPAL: India will get cheetahs from South Africa if not Namibia, say officials involved in world's first intercontinental translocation of endangered species, even as Namibian government denies reports they were trying to use cheetahs to gain support for the ivory trade.
"…the Ministry of Environment, Forestry and Tourism has denied reports that they have requested India's support for an exemption from the ivory trade ban lifted against the transfer of cheetahs to the Asian country", reports the Namibian media. The Namibian and Indian governments have only entered into a memorandum of understanding on the sustainable use of natural resources in general, their minister said.
Indian authorities are in talks with the South African government through the Endangered Wildlife Trust, which initially secured the supply of 100 cheetahs to Kuno Wildlife Sanctuary in more than a decade. "Namibia has not yet denied (giving cheetahs) but if there is a problem, cheetahs will be brought from South Africa," an officer said on condition of anonymity. A five-member team of experts, including the Principal Secretary of the Madhya Pradesh Forestry Department and the Chief Wildlife Warden along with experts from MoEF and WII, had visited Namibia to discuss the supply of some cheetahs in their historic range and wild habitat in India. The objective was to finalize the modalities for the transfer of the cheetahs to Kuno National Park in Madhya Pradesh.
The Namibian government has reportedly asked for India's support against the global ivory trade ban under the Convention on International Trade in Endangered Species (CITES). "Namibia apparently wants India to back its request for an exemption from the global ivory trade ban against cheetahs," a forest official said. Namibia claims that their CITES decision has hampered their conservation efforts).
Five southern African countries – Namibia, Angola, Botswana, Zimbabwe and Zambia – had proposed that the ivory trade ban be lifted. These countries make up the Kavango-Zambezi Transfrontier Conservation Area (Kaza-TFCA), which is home to two-thirds of the continent's African elephants, according to reports. The ban was imposed in 1989 in an effort to control their population decline mainly due to poaching. India plans to bring in 12 to 14 cheetahs from South Africa, Namibia and other African countries over a five-year period.
The cheetah was declared extinct in India in 1952
YV Jhala, Dean of Wildlife Institute of India (WII) and one of the team members, Ashok Barnwal, Principal Secretary, Government of Madhya Pradesh and JS Chouhan, Principal Chief Conservator of Forests and Chief Wildlife Warden , Madhya Pradesh among other delegates met with Namibian authorities in February this year. Jhala, who leads this project, was granted a two-year extension.
They held talks at G2G level with Namibian officials. They also appealed to Netumbo Nandi-Ndiatwah, Deputy Prime Minister and Minister of International Relations and Cooperation.
The cheetah was declared extinct in India in 1952 – the only large carnivore to become extinct from independent India.
Kuno, meanwhile, is ready to welcome the Cheetahs. Everything needed for the translocation, including enclosures, is ready, officials said. tnn