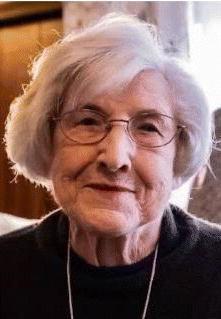 Jean Kirkpatrick | Death notice | indexjournal.com
[ad_1]
Jean Kirkpatrick
Jean Ash Kirkpatrick, 88, widow of Brice Dean Kirkpatrick, died on September 23, 2021 in Greenwood, SC.
Born in Greenville on November 18, 1932, she was the daughter of Everett Ray and Isa Belle Irwin Ash. Ms. Kirkpatrick graduated in 1951 from Parker High School, where she received a partial scholarship from Furman University with a major in social studies. She graduated from Furman in 1955 and then received her Masters of Administration and Supervision from Clemson University in 1976. After teaching in other school districts in North Carolina, Tennessee, Georgia and South Carolina, she took up her retirement from Cambridge Academy in Greenwood as Academic Advisor and Director.
A great traveler, she has been fortunate to take many trips alongside her beloved husband over the years and has traveled with many groups of students in Europe. She took advantage of an African safari as part of her educational trips and cherished learning about other cultures and customs.
Upon retirement, Ms. Kirkpatrick became an Assistant Bridge Instructor for the Continuing Education Department at Lander University, where many friendships were formed as she helped others establish bridge clubs. She also liked to read and play the piano.
A long-time member of the First Baptist Church, she was for many years a teacher for the Carpenter Sunday School Class and a member of the JoAnn Gray Circle.
Her two children, Mac Craig Kirkpatrick and her fiance, Wanda Amick, and Kelly Kirkpatrick McWhorter and her husband Mike, all of Greenwood, survive; brother-in-law, Robert Kandalaft of Whittier, CA; two step-grandchildren, Melanie and Bonnie McWhorter and four step-great-grandchildren, Gaby and Niko Rael and Mia and Zane Burke and several beloved nieces and nephews.
A Celebration of Life will take place at 11 a.m. on Tuesday at First Baptist Church, with Dr. Tony Hopkins officiating. The service will be recorded and uploaded to Ms. Kirkpatrick's tribute wall on Tuesday afternoon.
Private family interment will be held at Edgewood Cemetery prior to the service.
The bearers will be David Ash, Dean Kirkpatrick, Grant Nicholson, Chad Teague, Ralph Logan, Jerry Timmons, Kevin Kandalaft, Rita Tooke and Lewis Walker.
The honorary escort will be members of the Carpenters Sunday School class.
Visitations will take place after the service in the community hall of the church. Condolences can be sent to the family home at 124 Oxford Road.
The family would like to thank the doctors and healthcare teams who treated Jean, including Dr Sam Burnett, Dr Steven Gottlieb, Dr Doug Powell, Dr Allen Turner and Dr Nancy Hart Wicker.
Memorials can be made at First Baptist Church, 722 Grace Street, Greenwood, SC 29649 or Cambridge Academy, 103 Eastman Street, Greenwood, SC 29649.
For online condolences, please visit www.blythfuneralhome.com
Blyth Funeral Home & Cremation Services helps the Kirkpatrick family.
[ad_2]