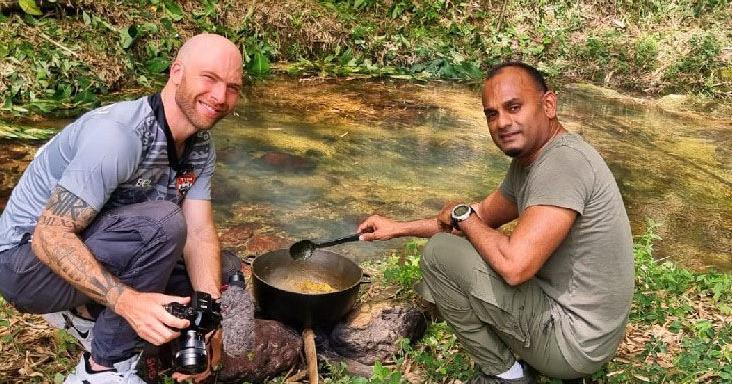 American foodie loves Trini tattoo | Local Features
A spicy curry tattoo (armadillo) and a bus by the Caura River have always caught the eye of famous travel vlogger David Hoffmann on T&T.
Hoffmann ranked the serving of fig leaf curry among the best foods he had ever tasted. That's high praise from the American-born foodie who, over the past decade, has tasted cuisine in more than 1,200 cities in 87 countries on six continents.
"I think this is one of the best meals of my life, a curry armadillo (tattoo) and a lime. The ambience adds to the taste, being in the forest, preparing the food and talking to people," Hoffmann said in a phone call with the Kitcharee on Friday morning.
The Miami-based travel host, producer and social media influencer was in Tobago at the time to sample the sister island's culinary delights. He admitted he didn't know "much" about T&T before arriving here, other than the island just off the east coast of Venezuela, his parents' homeland.
"I didn't know much coming here. I really like to learn from people, so I don't do too much research before visiting a country. Learning from people takes my breath away. The T&T experience was a thousand times better than I could have imagined," he said.
Hoffmann was welcomed to T&T by chef Jason Peru and local foodie/photographer David Wears. The couple took the American foodie through Port of Spain, Siparia, Maracas Beach, Caura and Tobago in a bid to give him an authentic taste of the islands.
"Everything is perfect. It's been a great trip so far. Trinidad and Tobago has been a very different and unique experience in terms of the level of diversity of the people and it obviously shows in the cuisine. You have here Indian, African, Chinese, Lebanese and now Venezuelan elements. I'm in love with the food, it turns out to be quite an adventure," Hoffmann said.
It's a life of sacrifice
Travel vlogging may sound glamorous, but Hoffmann says it's a lifestyle that takes a lot of sacrifice. The working hours are long as his days are filled with traveling and the nights editing video to post on his davidsbeenhere.com website and supporting social media pages.
However, all that dedication and hard work paid off. Hoffmann was named one of the Top 10 Travel Videographers by USA Today and one of the Top 10 Travel Video Sites by OOAworld.
"I live my passion, but it's a lot of sacrifices. It's an endless journey. But I'm trying to build something memorable and leave a legacy for my kids. But it can get really, really difficult," he said.
The cooking enthusiast, who is leaving for Nicaragua next month ahead of a planned trip to Iran in May, says there are always two concerns at the top of the list when planning a destination: health and safety.
"A day like today is a 5,000 calorie day," Hoffmann said in preparation for a visit to the Dirt Oven in Castara and Miss Trim's in Store Bay, Tobago on Friday.
"It's hard (to stay in shape) because I gain weight while traveling. I try to limit sugar. I don't touch alcohol. I usually have three weeks between trips, so when I get home I do a good cleanse and workout.
"On the safety aspect, the thing is, I don't just land and walk in and go to bad neighborhoods. I'm a grown man, I have kids, and I watch myself like gold I don't throw myself in the belly of the beast unless I know we can be safe I've been to places in Brazil and they say today is going to be a tough day , David, so get ready if need be to put the camera on and run," he added earnestly.
By the time you read this, Hoffmann would have completed his T&T culinary adventure. He predicts that he will leave these shores with a feeling of warmth in his stomach, not because of all this food, but because of the love shown to him by the inhabitants of this land.
"T&T has been very, very accommodating. The people were warm and kind. I go out there and give them the same warmth every time and let them know that I'm not here to eat free food, I'm here to show the world what you are and bring people to you," concluded Hoffmann.