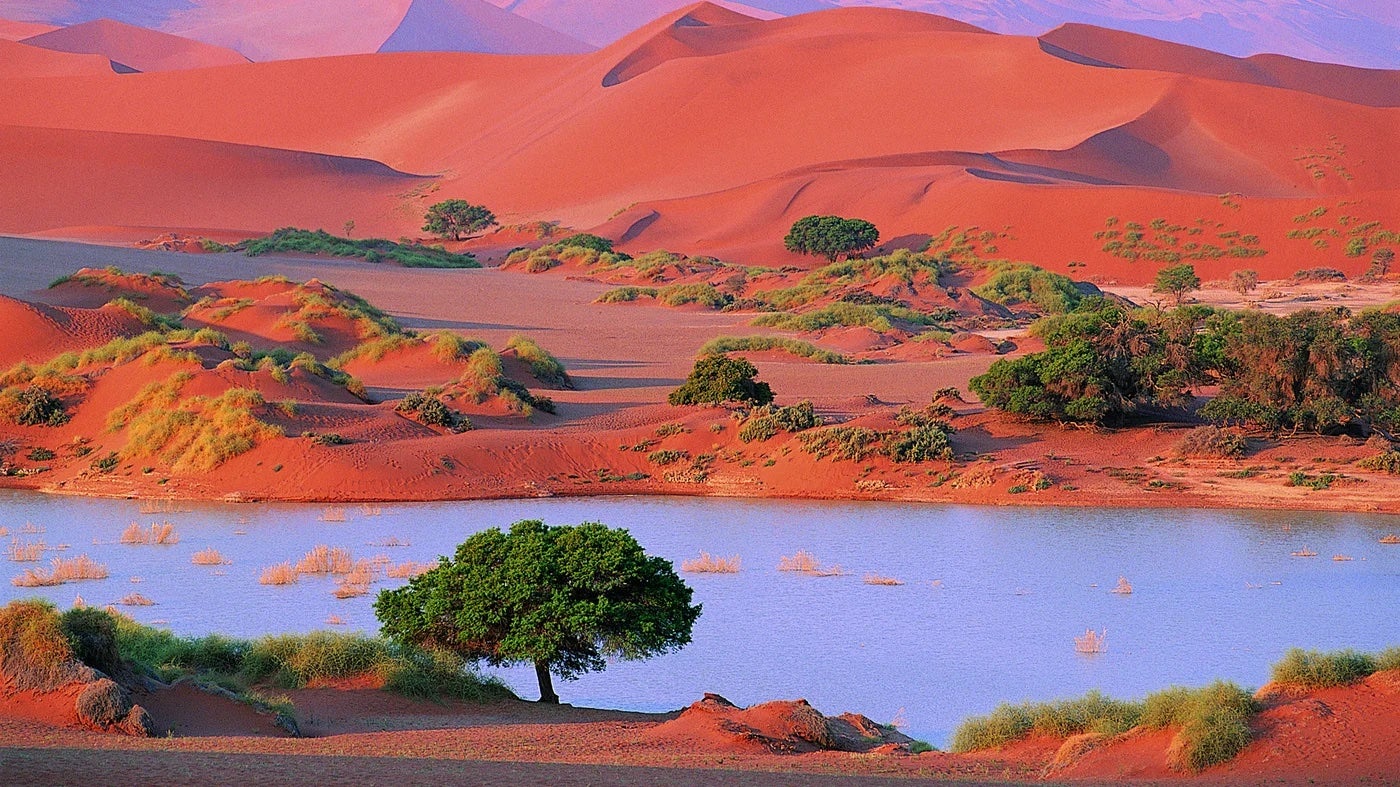 10 of the most underrated holiday destinations in Africa
Africa is full of underrated destinations spread across its 54 countries, and the continent offers much more than your typical Nile cruise in Egypt or a safari in South Africa.
If you're looking for adventure, there's plenty to do and see, whether you want to soak up the sun on the beach, hike in the desert or embark on a safari.
Here are some of the continent's most underrated destinations for your next African vacation.
Subscribe to our daily newsletter
Lake Malawi, Malawi
Although Malawi is landlocked, you can still sunbathe on the golden sands of Lake Malawi. The iconic waterhole borders Malawi, Tanzania and Mozambique, and is home to a unique collection of endemic flora and fauna (particularly birds) that you won't find anywhere else in the world.
Visitors can snorkel in the clear waters of the lake to see various species of fish, watch the Big Five (lions, leopards, black rhinos, elephants and African buffaloes) at nearby locations like Majete Wildlife Reserve or go on game drives by boat along the Shire River. through Liwonde National Park.
Okavango Delta, Botswana
Hoping to see endangered species like the black rhino, African lion, white rhino and cheetah? Direction the Okavango Delta in Botswana. The UNESCO World Heritage Site is a vast ecosystem of lagoons that visitors can explore on foot, by boat or mokoro (a traditional canoe), by vehicle or even by hot air balloon or helicopter.
Travelers can also enjoy game drives in the Moremi Game Reserve, located east of the Okavango Delta. Just note that this game reserve (as well as most of the others in Botswana) is unfenced and wildlife roam freely, so you can't wander around your safari lodge alone at night.
Related: African Safari Under The Radar: Botswana
Saly, Senegal
Travelers in search of the African winter sun should head to the sands of Saly, just over an hour's drive from Dakar's bustling music and market scene. This area is ideal for those who want to relax, golf, dine, and simply enjoy a low-key vacation in an affordable hotel or home rental.
If you fancy more action, take a day trip to nearby Lake Retba, which emits a pinkish hue thanks to special saline algae in its waters. Or head to the Somone Lagoon, a mangrove and beach area known for its waterfowl species and reggae beaches.
Nyerere National Park, Tanzania
The most popular places in Tanzania, like the famous Serengeti or the exotic sands of Zanzibar, are what international travelers usually call to the country. However, those looking to connect with nature should visit Nyerere National Park, one of East Africa's largest wildlife sanctuaries, which encompasses nearly 12,000 square miles of protected space.
Besides the 440 species of birds in the park, visitors can usually spot elephants, rhinos, lions, buffaloes, leopards, cheetahs, zebras, giraffes and hippos on a three-day safari.
Related: Dreaming of an African Safari: How to Book My Bucket List Trip to Tanzania on Miles and Points
Bazaruto Archipelago, Mozambique
For an exotic ocean adventure, head to the Bazaruto Archipelago, a group of unspoilt islands off the coast of Mozambique. You'll feel like you're in the Caribbean, lying on the white sands and swimming in sparkling turquoise waters.
There's also plenty to see, especially underwater, including one of the largest populations of dugongs (a cousin of the manatee) in the Indian Ocean. Bazaruto Archipelago National Park consists of five islands (three of which are inhabited) amidst crystal clear waters, home to species such as sharks, whales, dolphins, manta rays, turtles and hundreds of coral and fish species. It is truly a diver's paradise and divers can access many of these marine delights at low tide.
Namib Desert, Namibia
The vast ocher sands of the Namib Desert are home to a surprising number of endemic plants and other species despite the arid climate. The rolling stretches of sand are best viewed from above via a hot air balloon. Two of the most iconic sights to see are Sossusvlei and Deadvlei – salt and clay pans flanked by sandy, reddish dunes that are part of the Namib-Naukluft National Park.
If you want to climb the dunes, Big Mama Dune, Big Daddy Dune and Dune 45 are among the highest. Note: Hot, slippery sand is difficult to manage. Visiting early in the morning means the sand is less hot and will be easier to climb.
Related: The coolest expedition lodges on every continent
Felicite Island, Seychelles
With over 100 islands in the magical paradise of Seychelles, it can be difficult to decide exactly which ones to visit. The three main islands, Mahé, Praslin and La Digue, are each special in their own right. However, Felicite Island, a few kilometers east of La Digue, is truly a marvel.
Large boulders jut out from dense tropical foliage fringed by white sand and azure waters. The problem? This paradise comes at a price — the only lodging option is the Six Senses Zil Pasyon, where lavish beachfront villas can cost upwards of $2,000 a night. Budget travellers, fret not: there are plenty of affordable ($100-$200) places on the neighboring island of La Digue, from which you can sail to Felicite and spend the day.
Related: Miles Away: A Trip to Seychelles, Africa's Tropical Paradise
Volcanoes National Park, Rwanda
There are only a few places in the world to see mountain gorillas in the wild, and the Virunga Mountains in Rwanda are home to one of the largest remaining populations. Because the gorilla population is nearly extinct, it's not easy to see these gentle giants – only 80 permits are issued per day in Volcanoes National Park, and permits cost nearly $1,500 per person. (Budget travelers take note: permits cost just over $680 per person in neighboring Uganda).
Volcanoes National Park offers other outdoor activities besides gorilla trekking. Hike a volcano such as the towering Karisimbi, hike to Bisoke Crater Lake, or visit the twin lakes of Ruhondo and Bulera.
Related: 11 architecturally spectacular wildlife lodges around the world
Lower Zambezi National Park, Zambia
Safaris in Zambia are often overlooked in favor of visits to neighboring countries like Tanzania or Botswana. However, safaris in Zambia are just as magical (and often more affordable) than those in other African destinations. Our top pick is Lower Zambezi National Park, which borders Mana Pools National Park.
This particular park is best experienced by canoe or boat, paddling along the Zambezi River, where large herds of elephants (over 100!) roam along the river's edge. Once you are in Zambia, you must also add a stop at the famous Victoria Falls, one of the most impressive waterfalls in the world.
Related: 9 Incredible Luxury Family Safari Lodges for the Ultimate African Adventure
Santo Antao, Cape Verde
Although Sal and Boa Vista are Cape Verde's most popular islands, those looking for an adventurous hiking vacation should consider Santo Antao – a lush island of rolling peaks and fertile valleys. With charming villages perched on cliffs and dizzying trails, hikers should head to the northeast of the island for the best hikes.
The island does not have an airport, which means that you will have to arrive by ferry from the island of Sao Vicente. Because the island is so remote (it's the westernmost of the Cape Verde archipelago), it's relatively untouched by mass tourism, so it's the perfect place to interact with locals. locals and get off the beaten track.
At the end of the line
Africa is a massive continent with lots to do and see in over 50 different countries. With destinations to suit all tastes and budgets, it can be difficult to decide where to go. If you're looking for an adventure and hoping to experience something a little different, less known or more remote than the more typical or iconic locations, head to one of these places for a dose. more remote, underrated pleasure of traveling.